Ceramic book tile is gift to board member's parents
Posted on June 10, 2019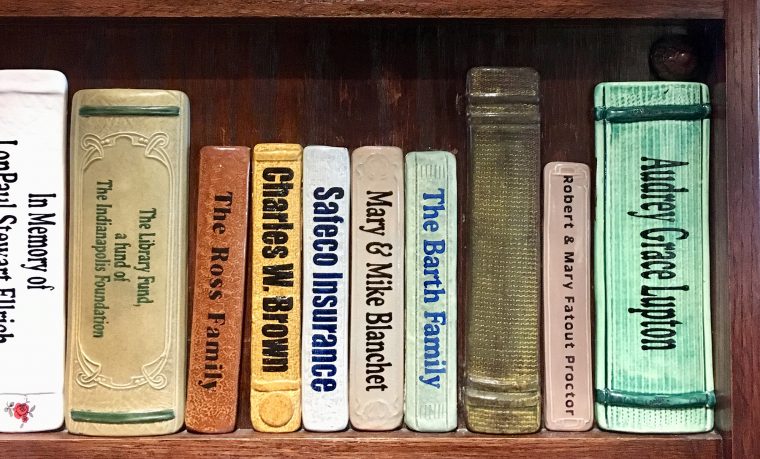 Written by Cathy Shouse

The news that Robert and Mary Fatout Proctor would have a tile in their name on display at the College Avenue Branch came in a unique way. Their daughter, Jessica Barth, a member of the Library Foundation Board of Directors, together with her family, wanted to surprise the couple.
"It was a Christmas present," Fatout Proctor said. "They had wrapped up a notice telling us. I was so excited about it because I had often stopped at that wall whenever I went to the Library, and I read the names. I always thought that was so cool. It was a great gift, it was marvelous."
Once their tile was in place, Fatout Proctor took a photograph of it with some of her grandchildren. That branch library has meant very much to her, since its beginnings as the Broadway Branch. She remembers walking to visit with a classroom of children when she was in elementary school. As a teen, she continued the connection.
"The first job I ever had was at the Broadway Library. . .It was set back from Broadway. I was 16 and worked as a page. Pages re-shelved books," she said.
Proctor is passionate about creativity and ran a program called Picture This, an improvisational group affiliated with Community Hospital, for many years.
The literacy baton has passed down in the family. "I have been a patron my whole life, in particular at Broad Ripple, Central, and College," Barth said. "I am in a book club and read a lot of new fiction. We all visit the branch frequently."