Imagine It! event a hit with crowd
Posted on August 04, 2017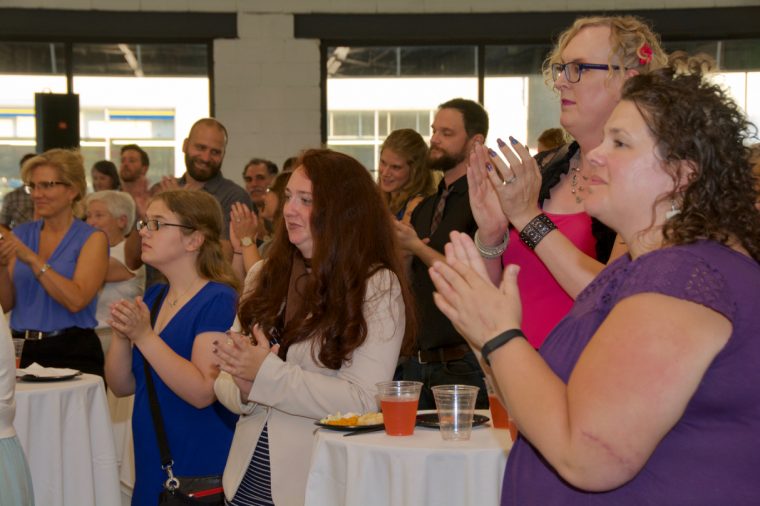 On June 15, Library fans packed Ash & Elm Cider Co. for Imagine It!, a pitch competition for new and innovative Library programming. Attendees voted for one of three projects: a book bike, a pack horse librarian and an art exhibit.
Tracy Hilton, a staff member at Glendale Branch, received the most votes for her Pack Horse Librarian idea. Part of the event's proceeds will support her work with community volunteers and IMPD's Mounted Police Unit. Volunteers and horses will visit children in Indianapolis schools for story times and talks about the horses.
For Library management, the event created new opportunities for staff. "Imagine It! generated several creative ideas that had not been brought forward through our regular processes," said John Helling, the Library's Director of Public Services. "To me, that means it encouraged staff to take a bold risk."
For Hilton, it was a chance to gain new skills and share a passion with the community. "I have grown in the process of adapting and presenting this project to various people and boards," she said. "I am so very glad that the Imagine It! contest has been created, and I know it will make lots of kids glad, too."
Updates on the progress of Tracy's project will be posted here and on Facebook and Twitter.
Our thanks to The Minde Browning Professional Development Fund, a Fund of The Indianapolis Foundation Library Fund for supporting the first-ever Imagine It!