#LibraryOutside - Justin Vining's Surreal Job and the Library
Posted on February 28, 2017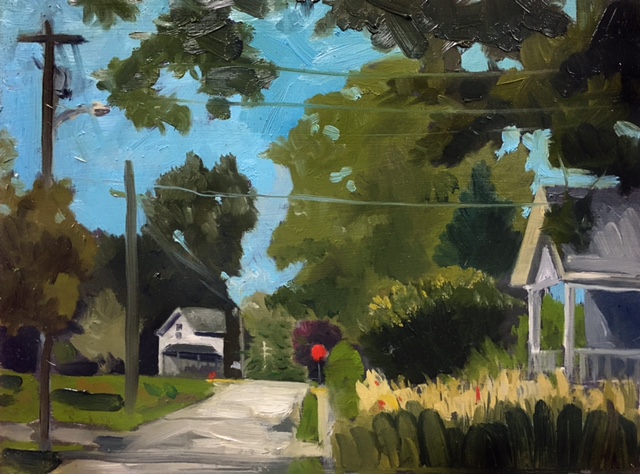 When Justin Vining visited the Library Foundation's recent board meeting, he brought his view of Indianapolis. A few of his dozens of paintings of Indy locales surrounded the table. Amid his work, which will be shown at Harrison Center for the Arts this Friday, he talked about how his experience with the Library connected with his current body of work.
Over the summer, Justin participated in a workshop at Central Library with Kyle Ragsdale, another local painter. Together, they demonstrated plein air painting – or outdoor painting that captures a moment in time – which is the style Justin will be showing this week. The enthusiasm and interest of both kids and adults at the workshop was a genuine surprise for Justin, and it excited him as he began working on the pieces for his show, "Outside." The opportunity to demonstrate the process of art to those who may have never seen it before energized him and brought a smile to his face as he shared his story with board members.
"It's pretty surreal that this is my job," Justin said as he invited our board to see more of his work at First Friday. It's an invitation that we are happily sharing with you!
See the work of Justin Vining in "Outside" and experience some of the programs the Library offers at Harrison Center for the Arts' First Friday event, from 6 – 10 p.m. this Friday. Follow the event on Facebook and Twitter using the hashtag #LibraryOutside.
For more info on plein air painting and a few pictures, check out Justin's story at Harrison Center for the Arts' website.
Harrison Center for the Arts is located at 1505 N Delaware St, Indianapolis, IN 46202.