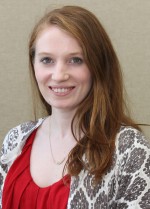 Caity Withers
Development Officer
About Caity
Caity joined the Library Foundation in May 2014. In her role as Development Officer, Caity works with individual, corporate and foundation donors. Caity holds a Bachelor's degree in Arts Management from the School of Public and Environmental Affairs at Indiana University, along with a Minor in Theatre and Drama.
Where did you receive your first Library card?
Anderson Public Library, Anderson, IN (I actually lived outside city limits, so I "borrowed" my grandma's)
What's your favorite way to use the Library?
I'm getting back into performing after a long absence. I'm lucky that our Library system has a great collection of sheet music and scripts for me to check out.