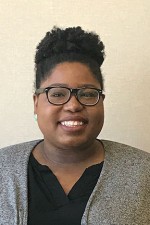 Asurné Johnson
Development Officer
About Asurné
Asurné joined the Foundation team in April 2018. A graduate of the Lilly Family School of Philanthropy's master's program, her role in the foundation is to manage the Friends of the Library annual fund program and a portfolio of other individual, foundation and corporate partners. She also holds an undergraduate degree from The Ohio State University in Film Studies,
What is a quote that inspires you?
It is only with the heart that one can see rightly; what is essential is invisible to the eye." - Antoine de Saint-Exupéry, The Little Prince
What is your favorite movie based on a book?
Hard question! Probably "The Silence of the Lambs." I also think that the 1996 adaptation of "Romeo and Juliet" is fantastic.